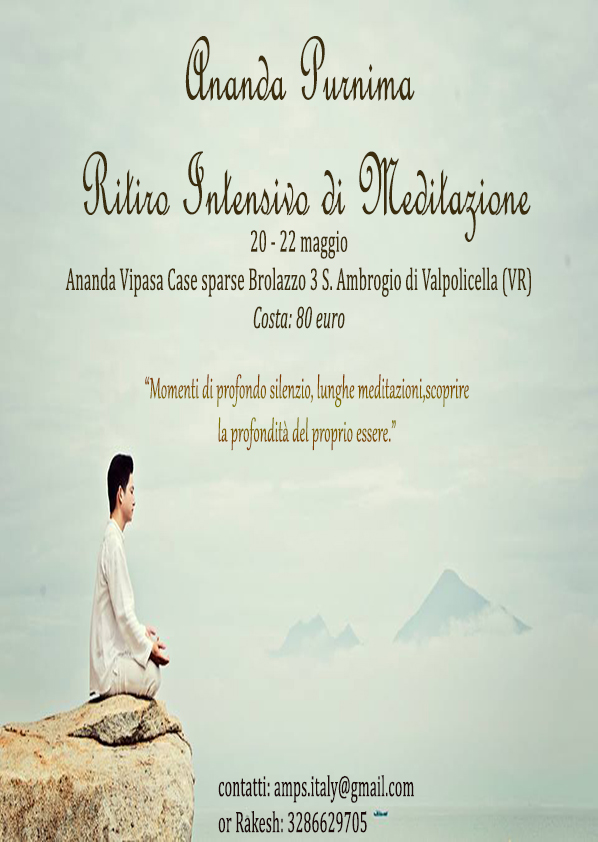 Ananda Purnima 2016 - Intensive Meditation Program
If you are looking for the place to Celebrate Baba's birthday. Here we go....
Ananda Marga Rome Region organizes 3 days program Intensive Meditation on the occasion Ananda Purnima. Arrival on Friday 4pm on 20 May. Enjoy the evening program and the nature around our Master Unit Ananda Vipasa, top of the hill look towards the biggest lake in Italy; Garda lake.
Saturday 21st May, ANANDA PURNIMA DAY, Starting with Paincajanya, asana. Following with the main activity: 12 Akhanda Sadhana - Akhanda Meditation - and Maonovrata. The attendances will be divided into 2 groups which each and everyone of the group will carry on 6 hours meditation and 6 hours kiirtan in rotate. Ending with collective meditation and Ananda Vanii. To keep strong vibration and go deep inside, all will obverse silence (maonovrta). One also will be request to take minimum food and in the lightest form for digestion.
On Saturday evening 9 hours overnight Akhanda kiirtan will start. It will be ended at 7.30 Sunday.
There will be a philosophy class regarding meditation and how to improve your meditation on Sunday morning.
You also could combine your tour to Italy by visiting difference places which are very close to our Master Unit: Venice, Verona, Trento, Treviso, Padova, Milan, Bologna etc...
To have more information, please contact by mail: amps.italy@gmail.com or tel. 3286629705
The price: 80 euro per person
For student: 70 euro
Reserve group of 5 people: 70 euro per person
To make your reservation, deposit 50 euro to:
Ananda Marga presso l'Unicredit banca – filiale di Porta Vescovo – Verona
Coordinate IBAN: IT 67 O 02008117040000 40446840
Code BIC SWIFT: UNCRITM1M04

by Ac. Devarainjan Brc.
RS Rome Region
31 March 2016