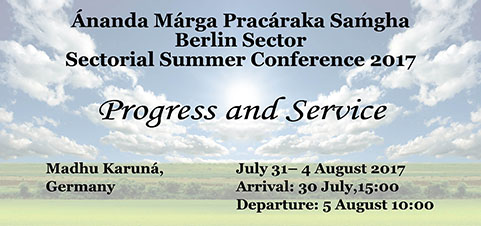 Sectorial Conference 2017 - Madhu Karuna Germany
Before the Summer Conference in 2017 there will be a special meeting (UTC – Utilization Training Camp) for all those margiis who have organisational duties either at unit, regional or sectorial level.
The UTC will start at 10.00am on Saturday 29th July and will end at 12.00 noon on Sunday 30th July.
Sunday 30th July is the arrival day for the Summer Conference starting with Akhanda Kiirtan in the afternoon.
Monday 31st will be the opening ceremony. The Conference concludes on Friday 4th August with the departure scheduled for Saturday 5th August.
Download the Berlin Sectorial Summer Conference 2017 brochures below:
Summer Conference 2017 page 1 (1078 KB)
Summer Conference 2017 page 2 (350 KB)