Prańipátena pariprashnena sevayá.
[By surrender, spiritual questioning, and servicefulness.]
Agragati [here, spiritual progress] depends on three factors – prańipáta, pariprashna and sevá.
Prańipáta means complete surrender to the Eternal Entity, Parama Puruśa. The mental attitude that "whatever is, is from Parama Puruśa and nothing is mine" is prańipáta. One who has ego, one who thinks that one's intellect, wealth and other things are one's own, is the greatest fool.
A person boasts of learning, intellect and fortune. But nothing is eternal. Therefore one who boasts of anything of this world is a fool. The worst psychic knot is the false vanity of intellect. Whatever is, is of Parama Puruśa; nothing is yours. Hence there should be complete surrender to Parama Puruśa. This is the first indispensable factor for mental development. If you really want to serve the world, complete surrender at the feet of Parama Puruśa is a must.
That is, submission to the Eternal Entity, to Parama Puruśa, is prańipáta. The possessor of this creation is that very Parama Puruśa. All these works belong to Him. We are only His media. If I don't do the works entrusted to me, he will get them done by others. Before doing any work, I must think that Parama Puruśa is doing this work through me.
In his lifetime, the bull that you see anywhere cries ham – that is, "me". But after his death, only the sound Tuṋ, Tuṋ, Tuṋ – You, only You – comes from the dhunurii [apparatus used for combing cotton] which is made of the fibre of his skin.
For this, it is to be remembered always that I am not doing anything, Parama Puruśa is Himself doing all these things. While doing all these things, the individual entity should not get entangled in the trap of Máyá. One should not be proud of his or her post, position, beauty, wealth, honour or knowledge. All belong to the Divine Entity, Parama Puruśa; nothing is mine.
Pariprashna means those questions which are responsible for our spiritual elevation. The exhibition of pedanticism and questions of such kind are causes for the waste of time and energy. These things are all useless. There should be no questions other than pariprashna. Outside of this, there is waste of one's own time and that of others.
Sevá means "selfless service". Service is there where there is no desire to get anything in return. When there is a desire to take while giving, it is not service, but business. Any kind of business is attached to give-and-take. In many newspapers one comes across many advertisements of business establishments – "In your service since such-and-such year." No, it is not service, it is business, because the person does not give anything without taking something. So in service there is only giving and no question of taking. Even if somebody gives in return, the mental attitude should be not to take anything – this alone is service.
There is a word which is generally used by devotees – prapatti. It means "full self-submission". Everything is done by Paramátman, by the Divine Entity. Aprapatti, on the other hand, means the mental attitude that all is done by individuals and not by Parama Puruśa.
With these three factors, you will get spiritual elevation. Except for these, nothing else will benefit you in any way. You have come for a very short span of time. Therefore utilize the time to the maximum. Serve the world with the feeling of service. Render service in all the spheres of life – physical, psychic and spiritual.
10 August 1978, Patna
---
Sádhana
The goal of sádhaná [spiritual practice] is the all-round elevation of human beings.
Spiritual practices do not teach renunciation of the world, they teach only the proper utilization of the subtle and crude potentialities. Just as it is necessary to follow a suitable system in the social and economic spheres, in exactly the same manner it is necessary to advance scientifically with proper discipline in the physical and mental spheres.
To develop a healthy body and mind, the following items must be strictly followed:
(1) Yama Sádhaná and (2) Niyama Sádhaná.
Special instructions regarding the items of Yama and Niyama should be learned from an ácárya/á. In fact, the principles of Yama and Niyama perfectly illustrate how one should deal with the surrounding world.
The potentiality of an ideal humanity is inherent in Yama and Niyama. Those who are established in Yama and Niyama attain emancipation from the aśt́apásha and śad́aripu arising from Avidyá [the extroversial force]. In this connection it is important to remember that overcoming the aśt́apásha and śad́aripu is not the same as eliminating them. In order to survive, one will have to maintain these páshas and ripus, but you should not be subservient to them, rather they should be subservient to you.
(3) Ásana.
Ásanas are postures in which one can remain in physical comfort and psychic composure. The practice of ásanas cures the body's glandular system of all its maladies and helps the mind to attain balance for spiritual practices. Ásanas should be practised only after obtaining instructions from an ácárya/á.
(4) Práńáyáma.
There is an inseparable relationship between the váyus of the body [ten basic energy flows] and the mind. Unsteadiness of respiration means unsteadiness of mind and vice versa. Práńáyáma is the scientific process to control respiration and hence the mind, as a result of which sádhaná is especially facilitated.
The practice of dhyána [meditation in which the psyche is directed towards Consciousness] becomes a time-consuming affair if práńáyáma is not adequately practised. Práńáyáma must be learned from an ácárya/á, otherwise it may be harmful.
(5) Pratyáhára.
Pratyáhára literally means "withdrawal" - withdrawing the unsteady mind from the allurement of particular objects. Varńárghyadána [Guru Pújá], offering the colours of the mind to Márga Guru, is the simplest means for withdrawal, but this process of pratyáhára can be practised even if Márga Guru is not present in His physical form. Ácárya/ás will give training in pratyáhára.
(6) Dhárańá.
Dhárańá is concentrating the citta [objective mind, mind-stuff] on prescribed points. Ácárya/ás will teach this process to eligible persons.
(7) Dhyána.
Dhyána is the unbroken flow of the mind-stuff, or citta, in one continuous stream, like the flow of oil, where all the propensities of the mind are fixed on the goal.
(8) Samádhi.
The state in which the tendencies of the mind are completely suspended following the practice of dhyána is called nirvikalpa samádhi.
Though in the samádhi attained through the practice of Iishvara prańidhána the "I" feeling as well as the mental propensities are not totally suspended, one becomes ensconced in the Cosmic stance. The jiiva [unit] gets established in Infinity. This state is called savikalpa samádhi.
1956, Jamalpur
Ananda Vanii January 2018
There should be only one prayer on the part of human beings – that their intellect might be guided along the right path. If the intellect is reformed, everything is attained. If the intellect goes astray, nothing is attained, even by attaining everything. Shrii Shrii Anandamurti Ananda Vanii January 2018
The Lily and the Moon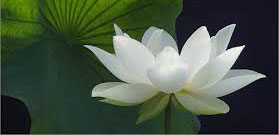 Train yourself in the ideal of the lily, which blossoms in the mud and has to keep itself engaged in struggle for existence day in and day out, parrying, bracing, and fighting the shocks of muddy water and storms and squalls and sundry other vicissitudes of fortune, and yet it does not forget the moon above. It keeps its love for the moon constantly alive. It seems, however, but a most ordinary flower. There is nothing extraordinary about it. Still this most ordinary little flower has a romantic tie with the great moon. Similarly, you may be an ordinary creature – you may have to pass your days in the ups and downs of your worldly existence – still do not forget that Supreme One. Keep all your desires inclined towards Him. Always keep yourselves merged in His thought. Go deep into the mood of that Infinite Love. Shrii Shrii Anandamurti Baba's Grace
What you love most in the world is Baba for you. For me, you little boys and girls are Baba. Shrii Shrii Anandamurti Baba's Grace
Life is a spiritual sádhaná, and the result is to be offered at the altar of the Almighty. Shrii Shrii Anandamurti Baba's Grace
You are never alone or helpless. The force that guides the stars, guides you too. Shrii Shrii Anandamurti Baba's Grace
The persons who can dedicate their all to the thought of the Great and the inspiration of the Supreme are verily the greatest heroes. Such heroes indeed are the virtuous and they alone are capable of taking human history from darkness to light. Shrii Shrii Anandamurti Baba's Grace
Through all works, big and small, humanity has to be awakened. Humanity in its fullest sense is Divinity, and its perfection is Brahmatva (Brahmahood). The aspirant must not forget this even for a moment. Shrii Shrii Anandamurti (Caryácarya II, 8)
Whatever you speak or do, forget Him never; keeping His name in your heart, work, remembering it is for Him and, endlessly active, drift in bliss. Shrii Shrii Anandamurti (Caryácarya II, 8)