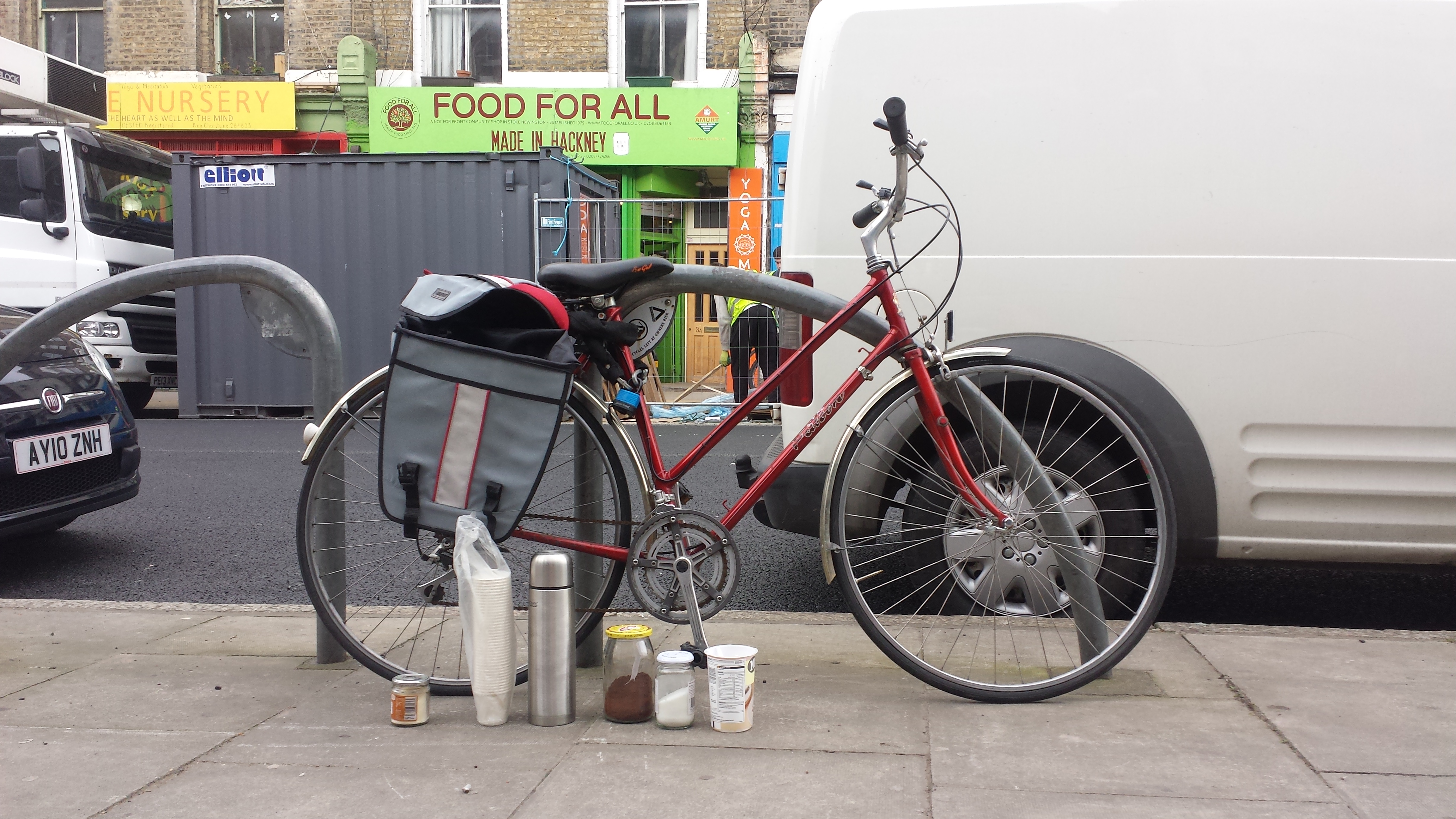 AMURT UK has been operating a feeding program every Thursday for the past 4 years. It is effective as 150-300 are served, though it takes about 20 volunteers to coordinate and a cooking space. The breakfast delivery via bicycle feeding program was designed to be a project that any one can take on alone, with minimal resources.
Once I had a saddle bag and a thermos for hot water, I had all that was necessary to implement the breakfast feeding program that has been in my mind for the past few weeks. What is necessary; a bicycle, saddle bag, thermos with hot water, instant coffee, sugar, creamer, cups, stir spoons, toast with margarine and jam. Those seem to be the basics. I set out in the morning rush hour to find people I normally observe asking for change outside of shops. Not something I want to see, but I can't neglect their presence and I feel I want to provide them with something more substantial than just some spare change. On the high st. toward Liverpool st. station there were only a few people. They were very happy to receive a cup of hot coffee and a small conversation. As I approached central London there were many more people. It seems as though hot coffee is exactly what they would have bought once they had solicited enough spare change from the public.
I returned back to the Jagrti within two hours. A pleasant way to spend the morning, on a bicycle ride, helping those in need. This morning I was only able to help 11 people, however, once I get better situated and have a better understanding of where people are staying, there is scope for expansion of this project. I encourage anyone to do the same in their neighborhood. A little help goings a long way and is even more effective with a loving smile.
by Ac. Paramasukha Brc.
RS London
05 April 2019